About GakuNin
GakuNin is an abbreviation of the Japanese phrase "Gakujutsu Ninsho Federation", which can be translated as, "Japanese Access Management Federation for Research and Education." It is a federation consisting of National Institute of Informatics (NII), universities, and organisations like publishers. GakuNin enables universities to use academic resources, while organizations to provide academic resources.
Students, faculty and staff of Oita University can use the following GakuNin services by Oita University userID and password. The typical services are listed below. For more information about the services, please refer to the following links.
Note: For more information about GakuNin, please refer to GakuNin's website.
 
 Information to be sent to the GakuNin services
When you sign in to the GakuNin services, the university will send the following information to the services. Please use each service after understanding the information to be sent. For details of each information, please refer to the technical guide of GakuNin.
[Information to be sent to all GakuNin SPs]
organizationName: Oita University
jaOrganizationName: 大分大学
eduPersonAffiliation: faculty / staff / student / member
eduPersonScopedAffiliation: faculty@oita-u.ac.jp, etc.
eduPersonTargetedID: Anonymous user identifier
[Information to be sent to a specific GakuNin SP]
ScienceDirect / Scopus

eduPersonEntitlement: A string specified by a particular service

GakuninMoodle (Gakunin LMS) / NII FileSender / meatwiki

eduPersonPrincipalName or mail: userID@oita-u.ac.jp
 How to Login
1. Click one of the above service links, then service login page will be shown.
2. Click "Down Arrow" button.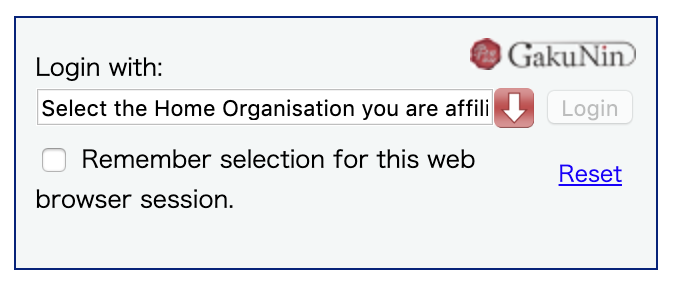 3. Select "Oita University".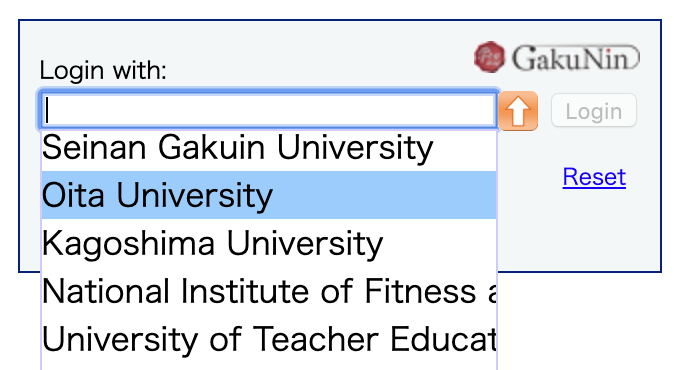 4. Click "Login" button.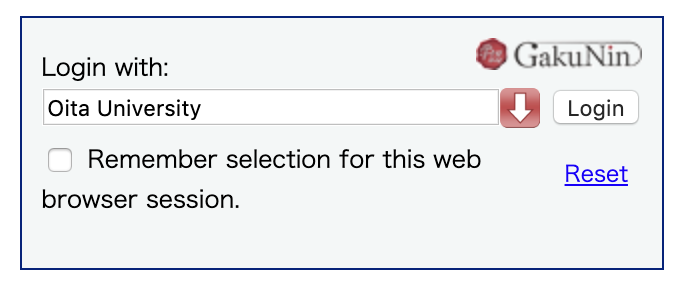 5. Input Oita University UserID and password, and click "Login" button.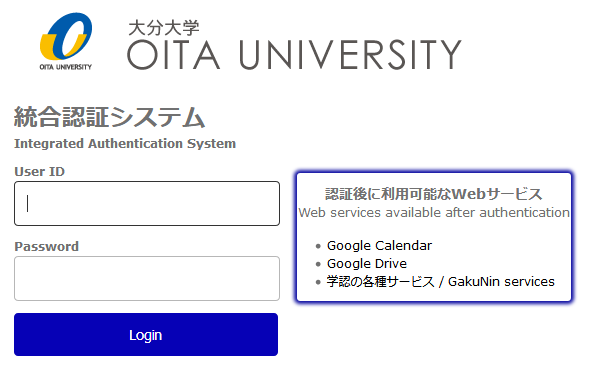 6. The service page will be shown again. Login is completed.